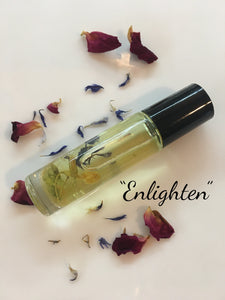 This is a beautiful blend of Magnolia, Jasmine, lime, Douglas fir and a touch of vanilla.
Perfectly balance of floral, with a touch conifer, citrus and vanilla. 
In a 10ml bottle beautifully decorated with a touch of gold mica.
Wild crafted violet flowers, rose petals and calendula petals.
Crystals: clear quartz know as a master healer.
Peridot: abundance, prosperity, and happiness. 

No unknown chemical or fragrance.
Beauty straight from nature.